Strada-Gallup Education Consumer Insights
The nation's largest data set of consumer insights on pathways from education to employment.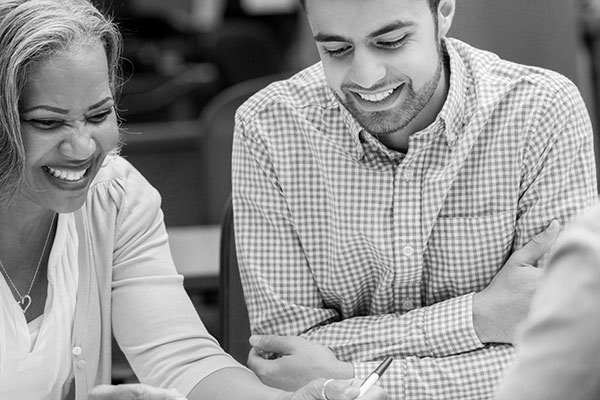 Featured Report
Mentoring College Students to Success
2018 Strada-Gallup Alumni Survey
Listening to Education Consumers

While there is no lack of data collected about postsecondary education, the consumer perspective is surprisingly absent. Yet in virtually every other industry, consumer research has ignited innovation, increased satisfaction and improved outcomes.

The purpose of Strada-Gallup Education Consumer Insights is to listen to and empower the voice of the consumer to strengthen education to employment pathways for all Americans. Working with institutions, employers, students and government leaders, we believe the insights gathered from this partnership can shape the future of the postsecondary education experience and lead more Americans to realize their purpose and potential through meaningful careers and fulfilling lives.

Be among the first to get the latest findings from our groundbreaking research, which captures first-of-their-kind insights from education consumers at every attainment level about their education paths and experiences.

51% of U.S. adults would change at least one aspect of their higher education.

83% of college attendees rate work-based sources of advice as most helpful, yet only 20% say they received advice from work-based sources.

Only 34% of current college students feel prepared to enter the job market and just over half (53%) believe their major will lead to a good job.
Be on the cutting edge of higher education developments with the complimentary Gallup Higher Education Insiders' Briefing newsletter.
Our quarterly briefing provides tips and updates on Gallup's latest findings, insights and projects aimed at improving students' success in college and graduates' success in their careers.
Get the latest news and updates from Strada and Gallup.
Finding a Path that Works for Consumers
Half of College Students Say Their Major Leads to a Good Job
Fifty-three percent of college students express high confidence that their major will lead to a good job. However, students who say faculty initiated conversations with them about career options have higher levels of confidence.
Internships Help Community College Grads' Job Prospects
Associate degree students with internships related to their studies are much more likely than those without such internships to have had a good job prospect immediately upon graduation.
Colleges: Learning Organizations That Aren't Learning
Colleges are supposed to be learning organizations. But their staff and faculty rank lower than other U.S. employees do in measures of learning and growth.
What Gallup Learned About Higher Education in 2017
Gallup's research on higher education in 2017 illuminated the serious issues facing U.S. colleges and universities.
Strada Education Network and Gallup are pleased to have support and guidance from a number of recognized higher education, policy and employer partners through our Education Consumer Pulse Advisory Committee. Members of the committee include the following:
Molly Broad, President, American Council on Education
Michelle Cooper, President, Institute for Higher Education Policy
Michael Crow, President, Arizona State University
Glenn DuBois, Chancellor, Virginia Community College System
John Engler, former governor of Michigan; Former President, Business Roundtable
Lucia Folk, Vice President of Public Affairs, Country Music Television
Martha Kanter, Executive Director, College Promise Campaign; Senior Fellow, Steinhardt Institute for Higher Education Policy at New York University
Les Lenkowsky, Special Counsellor to the Dean, Lilly School of Philanthropy, IUPUI
Teresa Lubbers, Commissioner, Indiana Commission for Higher Education
Tom Luna, Senior Vice President and Chief Government Relations Officer, Project Lead the Way
Jack Markell, former governor of Delaware
Wes Moore, Founder and CEO, BridgeEdU
Marc Morial, President, National Urban League
Beverly Perdue, former governor of North Carolina
David Soo, Senior Policy Advisor, U.S. Department of Education
Johnny Taylor, President and CEO, SHRM
Victoria Vasques, CEO, Tribal Tech
Ben Wallerstein, CEO and Co-Founder, Whiteboard Advisors
Grover "Russ" Whitehurst, Senior Fellow, Brookings Institution
"Consumer insights, when used effectively, have proven to be the key to innovation and success in nearly every industry. It's time we listen to education consumers to drive the innovation needed in higher education."
-Bill Hansen, Strada Education Network President and CEO
Subscribe to Get the Latest Strada-Gallup Education Consumer Insights.
To be among the first to learn more about Gallup and Strada Education Network, please fill out the form below. Someone from either company will receive this information and may contact you via email or phone about your interest in this topic and other Gallup products and services.